From Authors, to Inventors, to Manufacturers. . . OH MY!
Also see our Photos-Special Collections page and our Biographies page for possible additional information.
You may look for individuals on this page by a specific Last Name or by Category.
Beveridge, Albert Jeremiah
Boyd, William
Braxton, George
Browder, Thomas F.
Buster, Greene B.
Collier, James
Crothers, Dr. Samuel McCord
Crothers, Rev. Dr. Samuel
Curry, James
Curry, Otway
Dickey, Henry L.
Douglass, Frederick
Gadbury, Harry
Harps, J.A.
Harris, F.R.
Hoover, Helen
Hull, General John Edwin
Irwin, Noble Edward
Irwin, W. H., Esq. and Rev. S.D. Crothers
Marlin, Wenona
McArthur, General Duncan
McClain, E.L.
Morgan, Violet
Murray, Margaret Plyley
Neff, Elizabeth Hyer
Patterson, C.R.
Patterson, Karthleen
Paycheck, Johnny
Pulse, Charles K.
Rea, Maude S.
Ritchie, Rev. Andrew
Sauer, Mack
Waddell, John M.
Whitlock, Brand
Born in Greenfield, March 26, 1804, on what was the corner of First and South Streets in a one-room cabin; died in Marysville on February 17, 1855. He moved with his father (Colonel James Curry) to Marysville, Union County, Ohio, in 1811, and his early education was interrupted by the War of 1812. He went to Lebanon in 1823, learned the carpenter's trade, and worked at it in various towns until 1829. During this time he began writing verses anonymously for the newspapers, as "My Mother" and "Kingdom Come"; these gained popular favor. One of his poems, "The Lost Pleiad" appeared in McGuffey's Sixth Reader. He was then a farmer in Union County until 1839.
Curry served in the state legislature in 1836-1837 and again in 1842. In 1850 he was elected a member of the second Ohio Constitutional Convention. He was one of the signers of Ohio's state constitution in 1841. During the campaign of 1840, Curry wrote "Log-Cabin Song" which was sung by the supporters of William Henry Harrison. He became one of the editors of the "Hesperian" at Columbus, Ohio, in 1838, and in 1839 began to study law at Marysville. He was again in the legislature in 1842, and in that year bought the "Greene County Torchlight", published in Xenia, Ohio. He returned to Marysville in 1845, and practiced his profession until his death, except in 1853-4, when he edited the "Scioto Gazette" in Chillicothe. He wrote and published poetry all through his life.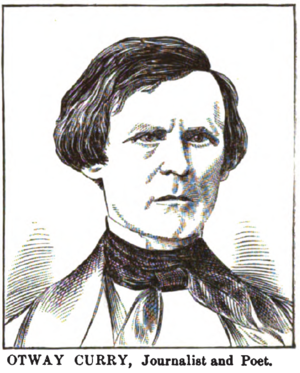 The Great Hereafter
'Tis sweet to think when struggling
The goal of life to win,
That just beyond the shore of time
The better days begin.

When through the nameless ages
I cast my longing eyes
Before me, like a boundless sea,
The Great Hereafter lies.

Along its brimming bosom
Perpetual summer smiles,
And gathers like a golden robe,
Around the emerald isles.

There in the blue long distance,
By lulling breezes fanned,
I seem to see the flowering groves
Of Old Beulah's land.

And far beyond the islands
That gem the wave serene,
The image of the cloudless shore
Of holy heaven is seen.

Into the Great Hereafter -
Aforetime dim and dark -
I freely now and gladly give
Of life the wandering bark.

And in the far-off heaven
When shadowy seas are passed,
By angel hands its quivering sails
Shall all be furled at last.


---
Frank Raymond Harris, or F. R. as he was known, was born April 19, 1880, in Greenfield to David and Sarah Shrock Harris. His father fought in the Civil war, was town marshal and later a cobbler. F. R. graduated from Greenfield Central High in 1897, from Ohio Wesleyan in 1902 with a B. A. and from Harvard in 1910 with a M. A.
He was an educator in the Greenfield school system for 36 years, from 1903 to 1939. He was high school principal from 1903 to 1921, being the first principal of McClain High School in 1915. He was superintendent from 1921 to 1939 when he retired. When Edward L. McClain was interested in donating a modern, up-to-date high school building, he sought out Harris to lead the planning.
Harris was the author of four books:
The Chronicles of Greenfield and the County McArthur,
Itchin' Feet, a book about his travels over the world,
A Greene Countrie Towne,
Roses in December, a book of poetry and
Hometown Chronicles.
During the summers and after he retired, Harris travelled extensively. He visited 128 countries and islands, flew on the Hindenburg before that airship's tragic accident and flew over the North Pole in 1958. In all, he logged over 100,000 miles.
He was involved in the organization and founding of the Greenfield Historical Society. He was a Blue Lodge Mason, a member of Elks, Eagles and Rotary. He headed campaigns for War Bonds and Liberty Bonds. He funded the moving of Travellers Rest when a gas station was scheduled to be built in its place.
As a young student he was hired by the school custodian for 25 cents a week to ring the school bell. This prompted Harris in later years to donate to the building of a bell tower in his name to house the old school bell.
F. R. Harris died on April 1, 1965. He travelled the world over and never owned an automobile.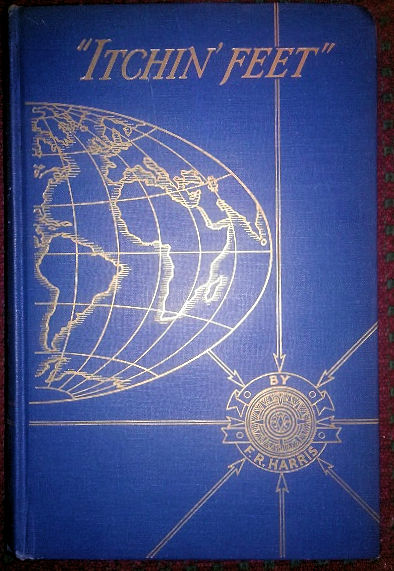 ---
Helen Drusilla Blackburn was born in Greenfield on January 20, 1910. She attended Greenfield schools and graduated from McClain High School. She went on to Ohio University where she earned a degree in chemistry. She married Adrian Hoover in 1936. While Adrian was in the military during World War II, Helen studied at the University of Chicago and earned a degree in metallurgy. They continued living in Chicago after he returned from the war. She worked in metals research and he was a graphic designer.In 1954, after a vacation to the north woods of Minnesota, the couple decided to rent a cabin and spend a year in the wilderness. Surviving proved a challenge but, after a year, there they made the decision to make it their permanent home.
She wrote articles for scientific journals and such magazines as Audubon and Gourmet. Her books about their life in the wilderness and nature books were a means to make enough money for their needed supplies. Adrian printed stationery and made wood carvings. Helen wrote seven books including three children's books. Adrian made pen and ink drawings to illustrate them. Four of her books, "The Gift of the Deer", "The Long-Shadowed Forest", "A Place in the Woods", and "The Years of the Forest", were based on their life of coping with the difficulties of living in the wilderness.
After sixteen years they decided to retire in 1970 to Laramie, Wyoming, where they lived until her death on June 30, 1984.
The Gift of the Deer - The classic story of a family of deer and the humans who loved them. Illustrated by Adrian Hoover.
One Christmas Eve an emaciated deer stumbled across the yard of Helen Hoover's remote cabin in northern Minnesota. Hoover and her husband Adrian named this deer Peter, and he became the central character in Hoover's beloved book, The Gift of the Deer. This classic story of a family of deer and the humans who loved them was first published in 1966 and is Hoover's best-selling book. Readers young and old will delight in this touching story of two north woods families.
A Place in the Woods - The beloved Minnesota author tells her tale of everyday life in the woods. Illustrated by Adrian Hoover.
"Clear brush and paths. Lay hardwood floor. Install wiring. Make a living. Take a vacation." These are some of the items that Adrian Hoover jotted down on his to-do list, soon after he and his wife, Helen, gave up urban comforts for the deeper delights of the wilderness in 1954. In fact, it would take sixteen years to check off every item on the list. This is the story of the Hoovers' education in wilderness housekeeping and of the surprising challenges they faced at each step.
Great Wolf and the Good Woodsman- A classic story with a message of peace, tolerance, and kindness—illustrated by Betsy Bowen.
Helen Hoover tells a children's fable that will stir a sense of wonder and discovery in anyone who has ever felt the magic of the forest. Great Wolf and the Good Woodsman, charmingly illustrated with hand-colored woodcuts by renowned artist Betsy Bowen, is a classic tale with a message of peace, tolerance, and kindness.
Her obituary published July 7, 1984 read:

Helen Hoover, Nature Writer And Metallurgist, Dies at 74
Helen Hoover, the author of seven books and numerous articles on nature and the wilderness, died of peritonitis Saturday in a hospital in Fort Collins, Colo. She was 74 years old. Mrs. Hoover, who lived in Laramie, Wyo., was the author of "The Gift of the Deer", "The Long-Shadowed Forest", "A Place in the Woods", and "The Years of the Forest", all published by Alfred A. Knopf between 1966 and 1973. She also wrote three children's books and her articles appeared in such magazines as Audubon, Gourmet and American Mercury. Mrs. Hoover, a trained metallurgist, was born in Greenfield, Ohio, and graduated from the University of Ohio, where she studied chemistry. She is survived by her husband, Adrian, of Laramie. Mr. Hoover, an artist, illustrated a number of his wife's works.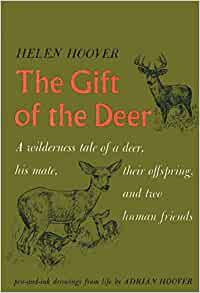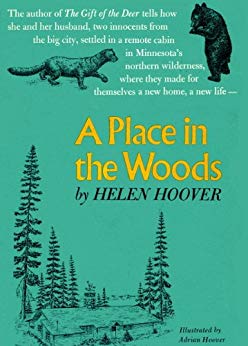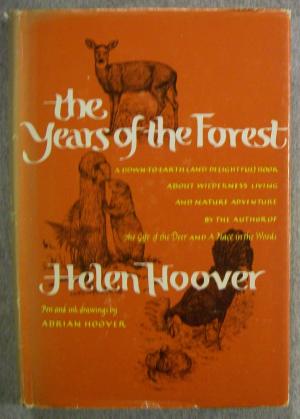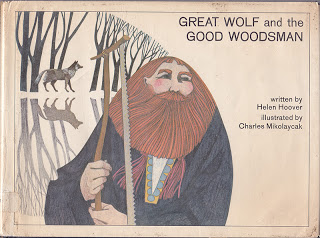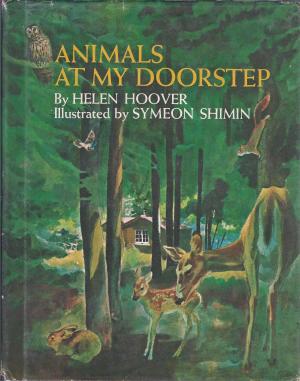 ---
Violet Morgan was born in Highland County, Ohio October 15, 1895, to V.E. and Lilla (Copes) Morgan. Her grandfather was a Virginia Civil War veteran. She graduated from Hillsboro High School in 1914, and attended Miami (Ohio) University and Wilmington College. She began her teaching career in Carmel (Highland County). Her book, "Squaw Winter" is a novel, based on the Indian comunity near Carmel. She taught in several Highland County schools, including Penn Township and Mowrystown (possibly others). Her book, "Folklore of Highland County" is a collection of historical stories of the area. Her books captured the interest of author Jesse Stuart, of Kentucky. Partly through his influence, she received a nomination for a Guggenheim Award. She died, in Hillsboro, after a lengthy illness, March 16, 1983.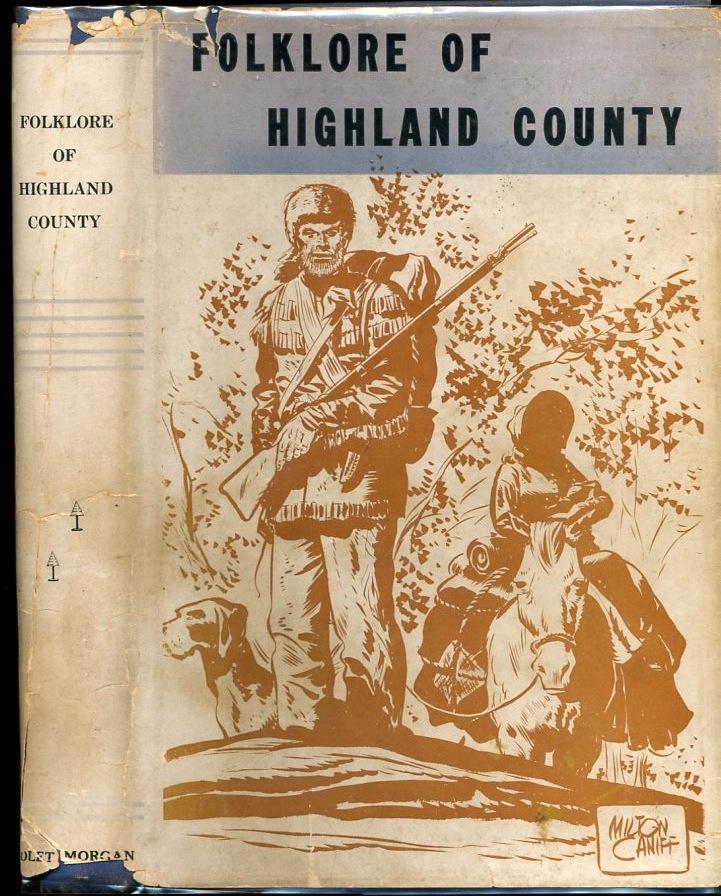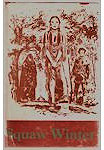 ---
As a country correspondent for the Chillicothe Gazette, Mrs. Murray reported the happenings of the little community of Fruitdale, near her stately old home of "Forestwild Farm" on Route 41. Her service covered a period of 50 years, and at the time of her retirement in 1959, she wrote to the Editor Howard C. Oyer: "I enjoyed every minute of it." Margaret was born to Francis Plyley and Eliza Ann Collier in 1873 and she married Mitchell James Murray. She died June 12, 1960. "Echoes of Forestwild", one of her noted works, represented the impressions of the 86 years that she lived on the Paint Township Farm in Ross County.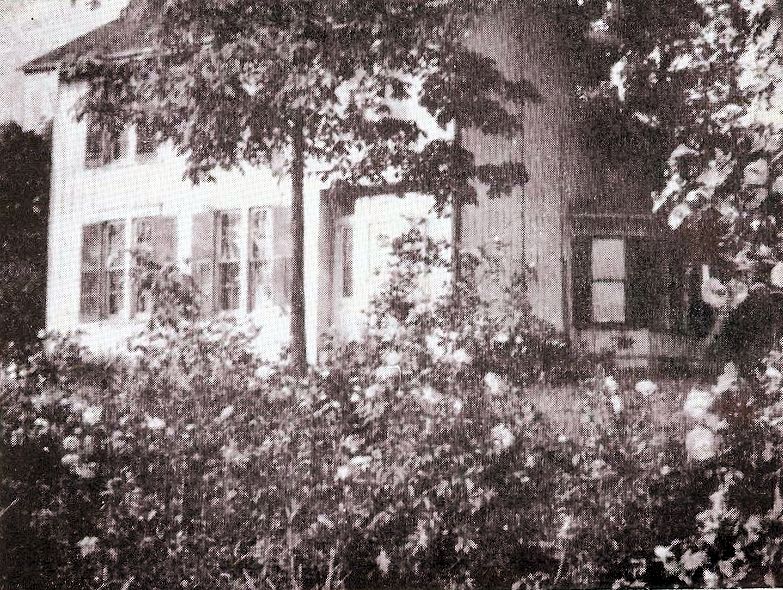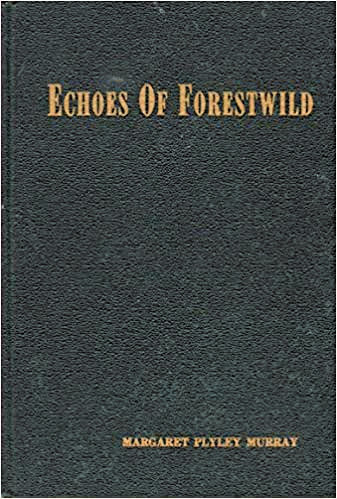 ---
Author and lecturer; Class of 1873, Greenfield High School.
Altars to Mammon, 1908.
Miss Wealthy, Deputy Sheriff ©1912.
A Dish of China Tea, a one act play
The Howl of the Wolf; a folk play in one act
Christmas Comes to Thunder Cove: a one-act Christmas play
Tales from McClure's; Adventure ...
The Conqueror of Barney the Balky
---
Centennial Historical Sketches of Greenfield and Vicinity, July 4th, 1876
---
Brighter Sun
, 1954
Married M. Kathleen Patterson (daughter of Mr. and Mrs. C. R. Patterson) in 1934.
---
The Gentle Reader
,
The Pardoner's Wallet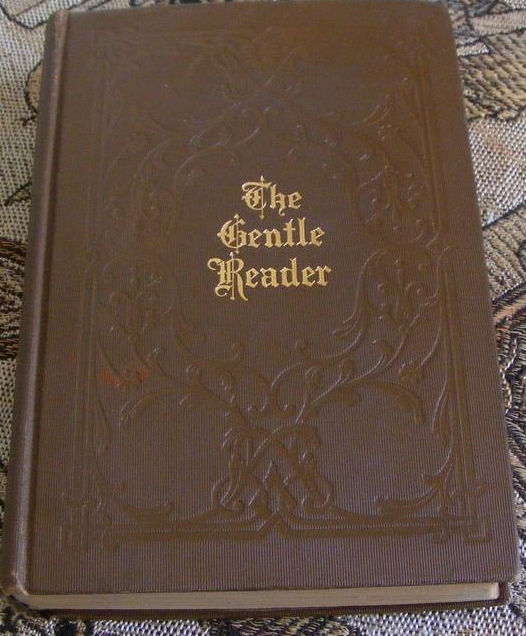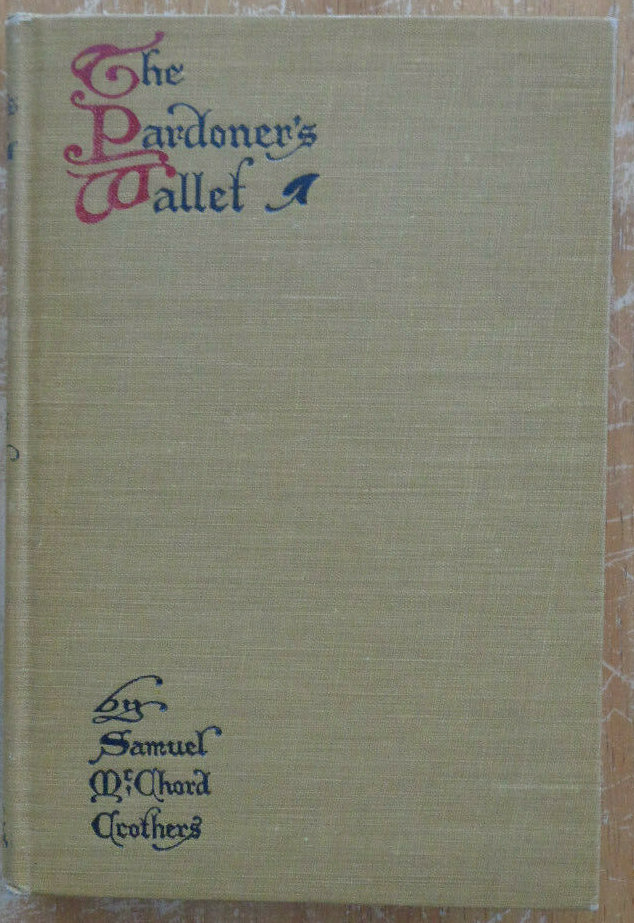 ---
Will o' the Wisp
,
New York and Paris Sketches
Class of 1888, Greenfield High School. Journalist, lecturer and author. One of the leaders of the equal suffrage movement in New York. Also see a
brief biography
.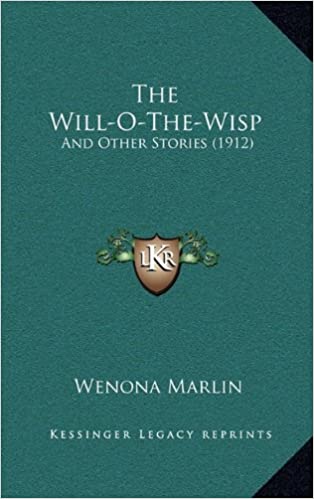 ---
It's Been a Wonderful Life One Day at a Time
---
John Bonwell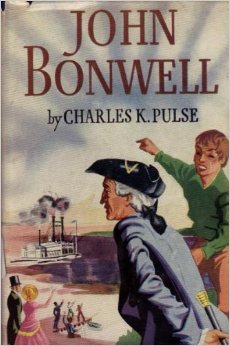 ---
Along the Way
, 1952
---
1782-1862
Life and Writings of Samuel Crothers
, Cincinnati, 1857
---
The Editor Squeaks, Ramblins and Rumblings
Mack Sauer, Jr., 81, left this earth July 11, 2016. Born in Greenfield, OH, he graduated from Fairfield High School in Leesburg, OH, and received his bachelor's degree in Journalism from Ohio University. He was a member of Phi Kappa Tau.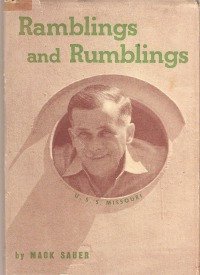 ---
The Preacher's Son
, The Harpers Monthly, Nov. 1903
---
Graphic Arts
Class of 1910, Greenfield High School. Attended Cincinnati Art School.
Charles Richard Patterson (C.R.) founded the C.R. Patterson & Sons Company in Greenfield, in 1865. Born in Virginia, his family made it to Greenfield (circa 1842) and was living here according to the 1850 Census. For many years, the Patterson company produced numerous types of horse-drawn vehicles. In 1873 he went into partnership with a white man, J.P. Lowe. Patterson assumed sole ownership a decade later upon the death of his partner. The product line included buggies, backboards, phaetons, rockaways and surreys — the era's most popular wagons. His son Fred joined the firm and with Fred's direction the firm turned its attention to the automotive age that was taking over the carriage trade. It became the first African-American automobile manufacturer with the introduction of the Patterson-Greenfield automobile in 1916. This new line of the business was dependent on having a lot of capital and that was not easy to acquire so the Patterson-Greenfield automobile never reached the mass-production level. Pattersons also turned their attention to the production of school buses which were in big demand by Ohio schools.
Also see this article on the Patterson Automobile.
Fred D. Patterson, graduated Class of 1888, Greenfield High School, and married Estella Postell. Here is a chart showing three generations of Pattersons involved in the manufacturing process.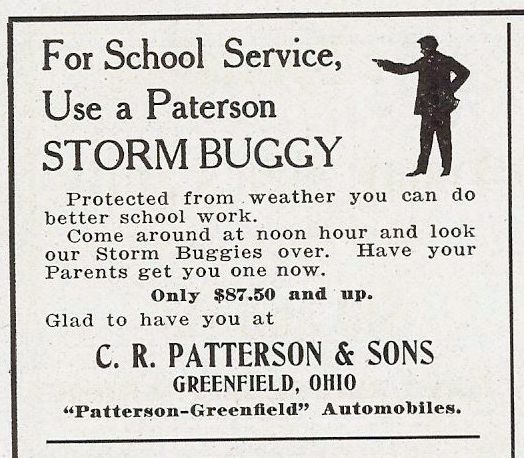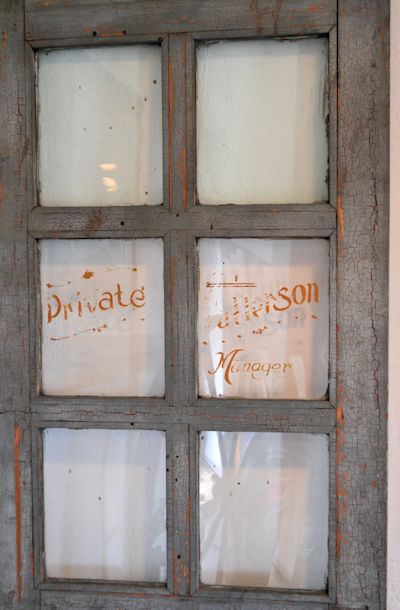 ---
Albert J. Beveridge was born October 6, 1862 in Highland County, Ohio and his parents moved to Indiana soon after his birth. He was the cousin of E. L. McClain. Beveridge was admitted to the Indiana bar in 1887 and began the practice of law in Indianapolis. He first attracted national attention by his eloquent speeches defending the increasing power of the federal government and advocating U.S. territorial expansion overseas. In 1899 he was elected as a Republican to the U.S. Senate (1899–1911), where he supported the progressive legislation sponsored by President Theodore Roosevelt. Breaking with the conservative wing of his party, he served as chairman and keynote speaker of the emotion-packed convention that organized the Progressive Party and nominated Roosevelt for president in 1912.
Beveridge never again held public office, devoting much time after 1912 to the writing of history. His The Life of John Marshall, 4 vol. (1916–19), was widely acclaimed and won a Pulitzer Prize. At the time of his death (Indianapolis, Indiana, aged 64) he had completed two volumes of a biography of Abraham Lincoln, published in 1928.
In the twilight of his life, he came to repudiate some of the earlier expansion of governmental power that he had championed in his earlier career. In one notable address, delivered before the Sons of the Revolution's annual dinner in June 1923, Beveridge decried the growth of the regulatory state and the proliferation of regulatory bodies, bureaus and commissions. "America would be better off as a country and Americans happier and more prosperous as a people if half of our Government boards, bureaus and commissions were abolished, hundreds of thousands of our Government officials, agents and employees were discharged and two-thirds of our Government regulations, restrictions and inhibitions were removed."
---
Henry L. Dickey was born in South Salem on October 29, 1832, and moved with his family to Washington Court House in 1836. They later moved to Greenfield in 1847 where young Henry attended the Greenfield Seminary. He became a civil engineer and was in charge in the construction of the Vinton County section of the Cincinnati & Belpre Railroad. He resigned that position to study law and was admitted to the bar at Chillicothe in 1857. He graduated from the Cincinnati Law School in 1859 and began his practice in Greenfield.
In 1855 a group of young men, including Dickey, was upset with the condition of the village, ruts in the streets, roaming animals, trash piles. They formed the Shanghai council and were elected to office, getting to work on the town's problems.
To raise funds for the Civil War effort, Dickey wrote the play "In Shiloh Field". The play was performed by local actors and was a success.
During the 1860s Henry served as mayor and was on town council. He was also a member of the Ohio State House of Representatives in 1861. He served in the Ohio State Senate in 1868 and 1869.
In 1865, a group of Greenfield women were upset with the number of liquor establishments in town and marched up Main Street entering stores and spilling liquor everywhere. They were charged by the owners. Dickey was one of the lawyers who defended the women in the county court.
Henry L. Dickey was twice elected to the U. S. House of Representatives representing the Greenfield area from 1877 to 1881. He was admitted to practice before the U. S. Supreme Court in 1877.
He died on May 23, 1910 and was buried in the Greenfield Cemetery.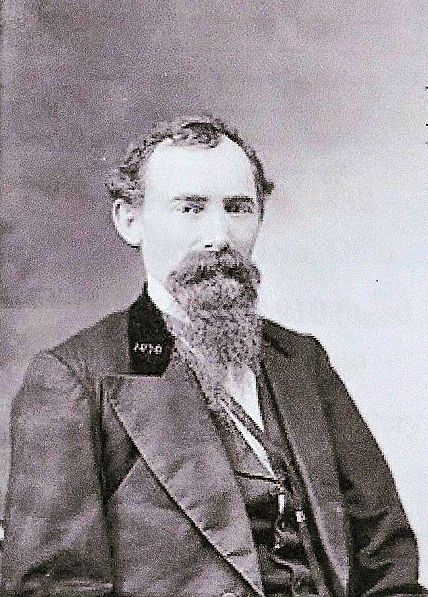 ---
In addition to patents awarded to more recognizable Greenfielders such as Waddell, Harps, and McClain, numerous patents were also awarded to Greenfield inventors as shown in the list below.
Stove-Hood - Ulrich B. Newman, 1888
Combined Paper-Weight and Game or Puzzle - John M. Waddell, 1896
Railroad-Crossing Signal - Alexander C. Watts, 1897
Buggy Top - Clay Gordon & C. R. Patterson, 1911
Line Support for Harness - Oscar Heidingsfeld & Theodore Hammond, 1909
Mail Bag Catcher - Joseph A. Schinner - 1910
Folding Child's Carriage - Stephen R. Evans, 1902
Sound Reproducing Apparatus - Willis O. C. Ellis, 1909
Ribbon Holder - Edgar S. Gray, 1907
Churn - Lonnie A. Baxter, 1901
Churn - Samuel A. Mitchell and The Sun Manufacturing Company, 1900
Dash-Foot - John Q. Juvenile, 1901
Pencil Holder - Joseph A. Eubanks, 1908
Elevator - William A. Mechlin, 1901
Cash Register - George R. Ellis & The Sun Manufacturing Company, 1899
Hoe - Lafayette Rains, 1898
Exhibiting Apparatus - Peter Roush & Henry Roush, 1897
Strainer for Pump Spouts - George Gauntz, 1894
Cash Register Indicator - Ulrich B. Newman, 1896
Foot Rest for Embalming Table - William Clouser, 1892
Poultry Brooder - James A. Porter, 1892
Cash Indicator & Register - Jacob H. Schnarrenberger, 1891
Wagon End Gate - Daniel O. Duncan, 1891
Dumping Wagon, Joseph Allen Head, 1891
---
Thomas F. Browder, a Civil War Soldier and business man, was born in Greene County, Ohio June 14, 1847. After attending school, he took one course at Forest Home College. In 1864 he enlisted in Company C, 60th Regiment Ohio volunteer infantry for three years. On May 9th at Spotsylvania, he was shot through the hip and lay in the field hospital for three days. Later, he was taken to Washington D.C., and finally furloughed home. He spent time in a Columbus hospital until he received his final discharge from the service. He returned home, went to college and taught school.
In 1876 he came to Greenfield where in 1894 he opened the first steam laundry in Greenfield in the old German M.E. Church on Mirabeau Street. He later sold the laundry to Captain T. M. Elliot of the Elliot Hotel. He also worked on developing a lifesaving net and received his first patent in 1887. In 1900 he added two other patents for improvements and later procured protection for his invention abroad. Browder perfected his net and in 1900 he held a public demonstration on the Greenfield town square. Having advertised the event, the streets were filled with spectators. Otis Long volunteered to leap from the top of the three-story Smart building into the outstretched Browder net. He did it with no apparent shock.
Browder advertised and sold his nets to many fire departments. On May 7, 1901, twenty people were rescued in New York City by the use of a Browder net. Many magazines carried articles about the advantages of the net. Orders for the net came in from as far away as Brisbane, Australia. The United State government even ordered nets for all fire departments in Washington D.C. In 1907 he sold his patents to the Corey-Patterson Company, where it became known as The Browder Life Saving Machine.
The Greenfield Historical Society has an original Browder lifesaving net on display. To read more about this amazing device, see the 32-page booklet.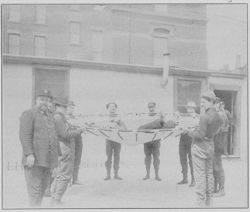 ---
James A. Harps was born in 1867 in the town of Snydersville, Monroe County, Pennsylvania. After growing up on the farm and attending the village school, Harps launched his business career by establishing a store of general merchandise. About this time Eugene L. and J. S. Arnott invented the Run Easy Kerosene and Kerosene and Gasoline can. When one of these cans made its way into the general store of James A. Harps of Ackermanville, Pennsylvania, Mr. Harps became quite interested in it. He saw a chance to develop a product that everyone would have a need for. Harps travelled to Greenfield to discuss his desire to become a salesman for the can with the patent holders only to find the rights were assigned to S. W. Price, who was manufacturing the can.
After much discussion Mr. Harps returned to his eastern home with an option on the plant and returned in a few days to purchase the rights, title, and interest of the original patentees. He moved his family to Greenfield and built a home on West Jefferson Street and started the manufacturing of the Never Fail Gas Can - the name he gave to the product. In 1907 he built the factory on S. Fifth Street next to the B&O railroad. The can was advertised as durable, easy to operate, absolutely clean ("even a lady could use without soiling her gloves"). The best materials were used. Before leaving the factory, it was subject to a rigid test. A printed guarantee was placed on every can - giving the buyer the privilege of returning it, if not completely satisfied.
The Never Fail Gas Can found a market from coast to coast and from the Gulf to the British possessions and with it went the name of Greenfield, Ohio. At one point the factory produced 1,000 oil cans per day. The company employed 40 workmen plus office and sales staffs. Mr. Harps was civically active, as he served on the Greenfield Board of Education and was president of the Peoples National Bank.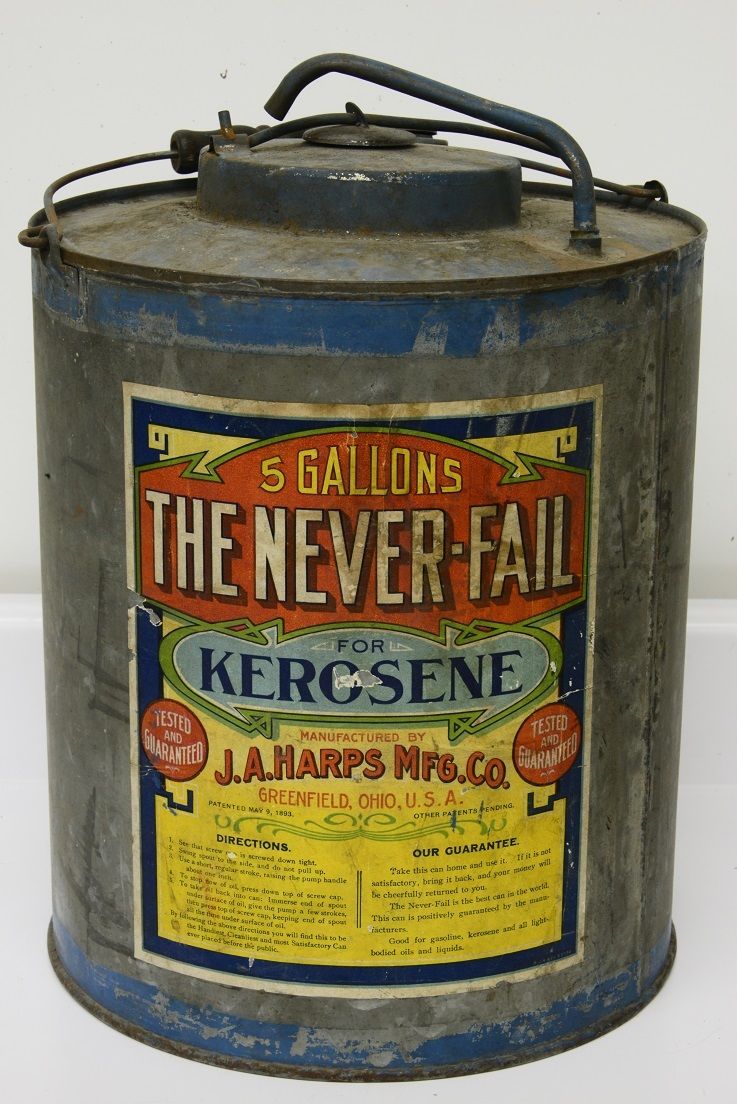 ---
Biography of E.L. McClain appearing in the 1934 edition of the Dragon
When Edward Lee McClain was growing up in Greenfield he worked in his father's saddlery shop. Many times he watched customers putting old blanket or burlap pads on their horses to protect them from the rubbing of the leather harness collar. Young Edward decided that there should be a better pad that was low cost and easy to put in place. He designed a pad made of cloth and stuffed with cotton. It was open at the bottom so it would be easy to fasten on the horse's neck. He also designed clips to hold it in place on the horse's collar and had a local blacksmith make some of them. He received a patent for the clips from the U. S. Patent Office. In 1881 he went into the business of manufacturing these new horse collar pads with two employees in a rented 10 by 12 foot room above a bank. By 1887 the E. L. McClain Manufacturing Company was putting out 300 dozen (3600) collar pads every day and 250 people were employed. McClain pads were sold all over the world.
See more information about E.L. McClain High School here.
McClain's business grew and expanded with several factories across the country and even into Canada. He built the town of Atco, Georgia, with factories to supply the cotton he needed. In 1912 he announced the gift of a new high school for the town of Greenfield. Construction was begun in 1914 with the dedication in 1915. The first class to graduate from McClain High School was in 1916.
E. L. McClain expanded his products into other areas. One item he received a patent on was this rat trap. As time went on, the automobile gradually replaced the horse as the means of transportation and trucks replaced horse and wagon as the means for hauling things. The need for horse collar pads gradually shrunk. The company had to find another product it could make to sell. During World War II the company manufactured thousands of sleeping bags and jungle hammocks. 2,827,000 life preservers were made for the armed forces. TAPATCO life preservers saved many lives of soldiers and sailors on torpedoed American ships. After World War II and the Korean War the main products of TAPATCO were sporting goods. The company made everything from life vests and boat seat cushion life preservers to hunting coats, sleeping bags and water skis.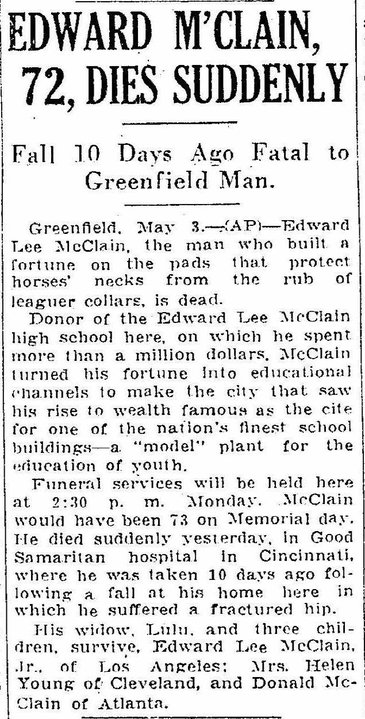 Interesting note about Mr. McClain and Mr. George
Mr. George had received the news of the death of Mr. E.L. McClain in the morning mail. He sat in his office for a long time, holding the letter that announced the death of his friend, very quiet, tears in his eyes. He than went about his daily duties. In the evening, they found him in his studio—dead. He was attired in the artist's smock which he always wore when at work. Near by was the brush he had just been using; on the easel, an unfinished painting. He had died, as he would have desired it, doing the thing he loved best. His death occurred on 9 May 1934. Mr. McClain died 2 May 1934.
---
John M. Waddell had a remarkable industrial career. In 1888 he founded the John M. Waddell Manufacturing Co. It is said the company was the outgrowth of a domestic incident—one morning, in the absence of the cook, Mr. Waddell found himself in need of ground coffee and began to use the old box coffee mill. This contraption had to be held between your knees and was a struggle to use. This gave him the idea to produce a new and improved coffee grinder which he began producing in 1889.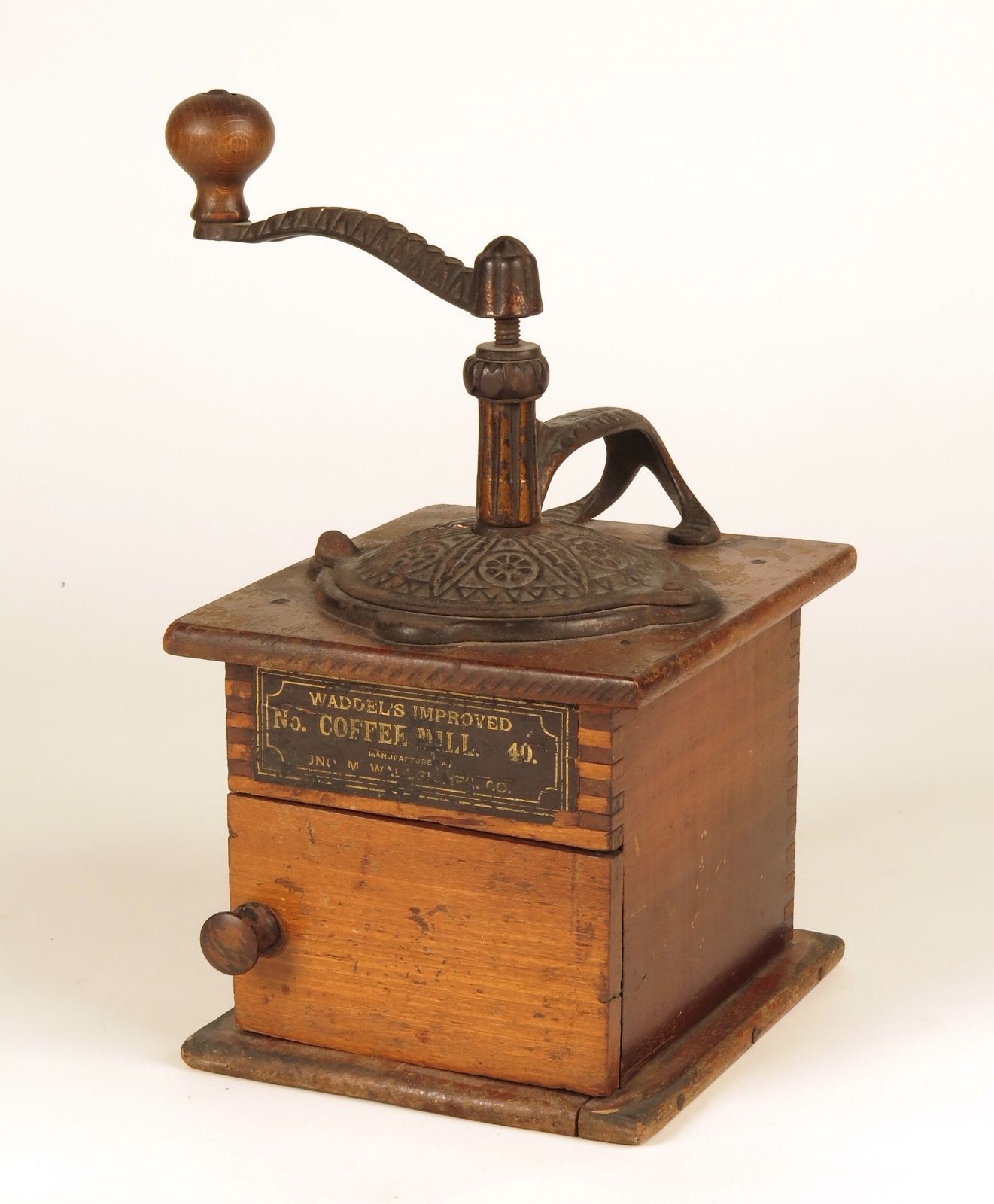 He later added the manufacture of a cash register (the "Simplex"). The company joined into a partnership with E. L. McClain and others which lasted several years. McClain bought out Waddell, changed the name to the Sun Manufacturing Company and moved it to Columbus. It was later sold to the Columbus Showcase Company. He then organized the Waddell Wooden Ware Works (incorporated in 1901) which manufactured cash registers, money drawers, coffee mills, animal traps (the Kodak Rat Trap and the Surprise Rat Trap), toys, puzzles, games, novelties and other items. His X-Ray Egg tester was used to check eggs to see if they were fresh. The Waddell Company also made show cases for stores to display their products for sale. Post Office furniture was an important product of the Waddell Company. Waddell also designed and patented cases for phonographs. It may be best known for its showcases and rural delivery tables and cases.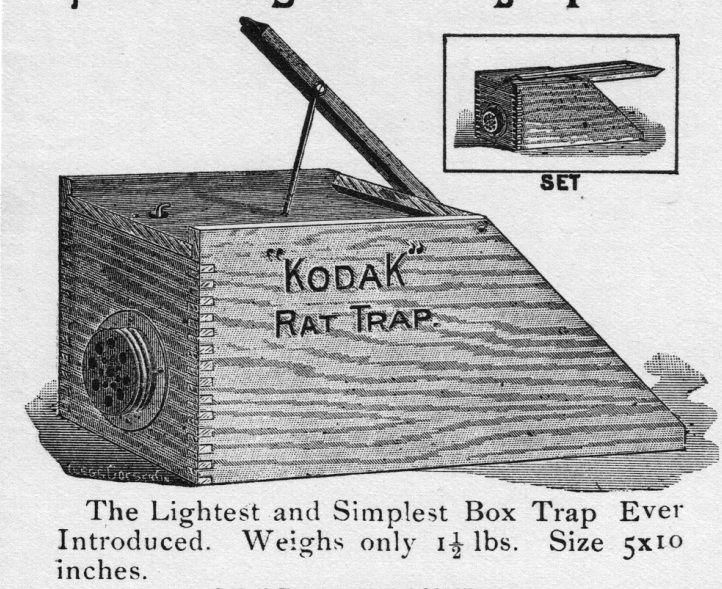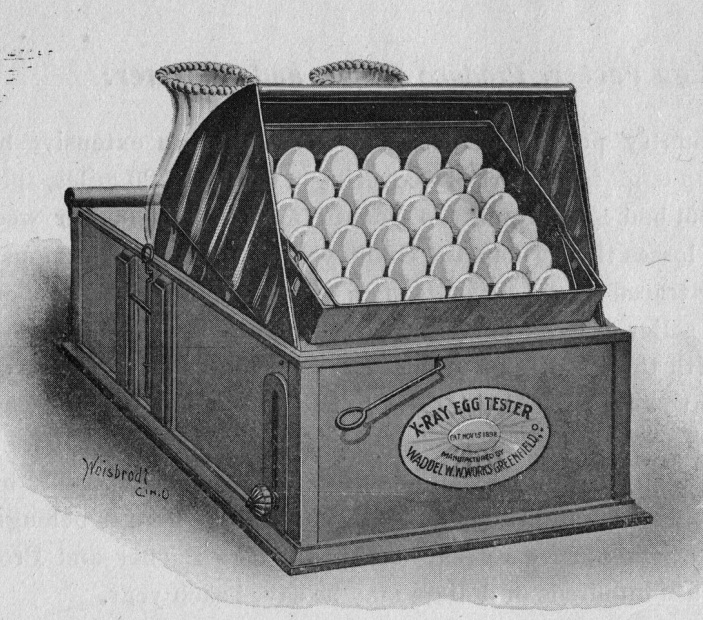 ---
Revolutionary War, War of 1812
---
In 1814, Captain James Collier moved on the farm just east of town. Capt. Collier was a Revolutionary soldier and during most of the time he was in the service he belonged to the "Flying Camp" (a body of men used to make rapid movements on the enemy).
Much of the time he was in the service he was with General Washington; was with him in the retreat throuogh New Jersey, and the suffering of Valley Forge. He took an active part in the battle of Long Island, helped to fight the battle of White Plains, assisted in the capture of the Hessians at Trenton and was in the battle of Brandywine.
For his gallant services he was presented by Gen. Lafayette with a fine sword. In 1832 the government granted him a pension of forty dollars a month. He died January 30, 1844; buried in Section 1/lot 99 of the Greenfield Cemetery.
---
The following summary was taken from an article written by Dorothy Countryman for a newspaper column (Frontier Figures), date unknown.
When James Curry came to Greenfield he had been a soldier and an army surgeon. No means of sharing news existed in the village and the only collections of books belonged to local clergy. To Curry, that was not much of a choice.
He was born in Ireland Jan. 1, 1752. Once arrived in America he took up residence in Staunton, VA and married a cousin of Scottish poet Robert Burns. Between them they began to develop a collection of books, works by Milton and Plato's Republic graced their bookshelves.
Curry enlisted in the Continental Army and served under fire at Brandywine, Valley Forge and Germantown. He apparently had at least a speaking acquaintance with his commander Gen. George Washington.
Although his medical training was based solely on what he read, Curry developed a knack for setting broken bones. He treated not only his fellow soldiers, but also their horses and mules as well, and was assigned as assistant to a regular surgeon. In this capacity he learned much practical medicine that would later stand him in good stead on the western frontier.
Curry was taken prisioner by the British at the battle of Charleston (now WV) and remained some time with them. He served a total of six years, six months in the Continental Army before coming to Ohio to collect on his Revolutionary land grant.
In 1806, Curry was elected to post of brigade inspector for the newly formed Ohio Militia. He settled his cultured wife in a new cabin on the edge of a Highland County meadow and became a colorful figure in the early population of Greenfield.
With them the Currys brought their books, a collection of leather-bound newspapers that the colonel sewed together himself, and a belief that reading should be for everyone. It was this belief that led the Currys to invite their neighbors to use the books and papers and as funds allowed they had new volumes shipped from the East to enlarge the collection. It was Greenfield's first library.
It is no wonder with this literary background that Curry's son, Otway became a talented poet. When his father insisted he study law, the young man ran away from home and pursued his writing career under the pen-name "Abdalla". Although he eventually became a lawyer and served several terms in the Ohio legislature, it is for the verses which appeared in newspapers, anthologies, school readers and later on pbulic buildings and monuments that Otway is remembered.
---
John Edwin Hull was born two miles west of Greenfield on May 25, 1895. He attended Greenfield schools and was on the 1911 and 1912 football teams, captaining the 1912 team. During that year the team outscored its opponents 237 points to 8. Hull went on to Miami University in Oxford, Ohio as a pre-Med student. On the football team there he played every minute of every game for three years. He graduated in 1917 and went on to officer training school and was commissioned as a lieutenant in the Army.
During World War I he saw action in the Marne offensive, along the Vesle River, the Meuse-Argonne offensive and was a member of the army that occupied Germany. After the war he remained in the Army and was graduated from the Army War College in 1938. During World War II he was a member of General Eisenhower's staff holding the position of Chief of Operations and later the position of commander of the Pacific Area. He also held the positions of Director of the Weapons Evaluation Group and Deputy Chief of Staff for Operations and Administration for the Office of the Secretary of Defense. Later, under then President Eisenhower, he was the Commander in Chief of the Far East Command at the conclusion of the Korean War. He is Highland County's highest ranking officer in the Army.
General Hull retired on April 30, 1955. He died on June 10, 1975 and was buried beside his wife in Arlington National Cemetery. Among his awards and decorations are the Army Distinguished Service Medal, the Silver Star, the Legion of Merit, the World War I Victory Medal, World War II Victory Medal, Korean Service Medal and the United Nations Service Medal for Korea.
---
Noble Edward Irwin was born to Lavinia A. Rogers and Henry Irwin on September 29, 1869, just east of Greenfield. He did not finish high school but his determination helped him pass the entrance exam when he was appointed to the United States Naval Academy in 1887. There he played on the Navy football team in the first Army-Navy game and graduated in 1891. He returned as Athletic Director for the Academy during 1907-1909. He was commissioned as Ensign in 1893 and the same year served on the USS Newark during the Brazilian Revolution.
In 1898 he served on the USS Baltimore in the Battle of Manila Bay during the Spanish American War. In this battle he was wounded. Later he served in the Philippine campaign and was part of the Relief Expedition during the Chinese Boxer Rebellion.
During World War I Noble Irwin commanded USS New Orleans in 1914 during the Fourth Battle of Topolobampo, a naval battle between Mexican forces during the Mexican Revolution. He was awarded the Navy Cross for meritorious service as Director of Naval Aviation. After the war he was in command of the battleship USS Oklahoma and Destroyer Squadrons of the Scouting Fleet. He became a Rear Admiral in 1924 and was Chief of the Naval Mission to Brazil from 1927 to 1931. In 1931 he became Commandant of the 15th Naval District and was transferred to the Retired List in October 1, 1933.
He died August 10, 1937 at Warner Springs, California. His ashes were buried in a cemetery at Annapolis, Maryland next to his wife and her parents. The USS Irwin, a Fletcher class battleship named after Noble Irwin, was launched in 1943 and commissioned in 1944. It saw action in the Pacific during World War II and also during the Korean Conflict.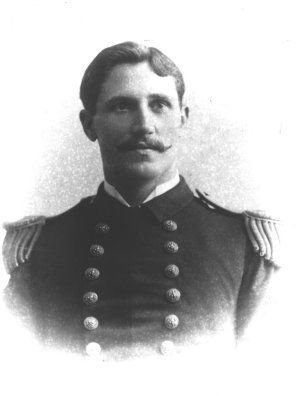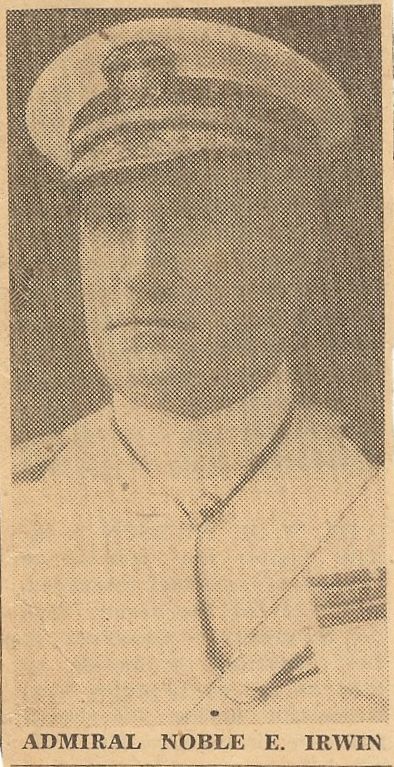 ---
General Duncan McArthur obtained a position with Nathaniel Massie in 1793, and worked with Massie on a surveying expedition in the Northwest Territory. In 1796, he worked with Massie to lay out the new town of Chillicothe, Ohio, which was to become the state capital in 1803. His first recorded visit to Greenfield was 1796, leading a group of surveyors. In the fall of 1799 he began layout out the town (190 lots). First settlers began arriving spring of 1800. It was his desire that Greenfield would become the county seat when new counties were being formed. He even donated a square for a court house and jail and a plot for a cemetery. However, that would not be the case because Greenfield was not near the center of Highland County when it was carved out, and a county seat must always be centrally located.
In 1805 he was elected to the State Legislature. In 1808 he was elected major general of the State militia. After the outbreak of the War of 1812 he was given the commission of colonel of Ohio volunteers. In the fall of 1812 he was elected to Congress and the following March he was commissioned brigadier general of the army. As General, he was 2nd in command to General William Henry Harrison. When Harrison resigned in 1814, he succeeded to his command of all the armies of the Northwest Territory. He also served as the 11th Governor of Ohio (December 18, 1830 – December 7, 1832). He died at his estate, Fruit Hill, near Chillicothe, April 29, 1839. He is buried in Grandview Cemetery, Chillicothe, Ohio.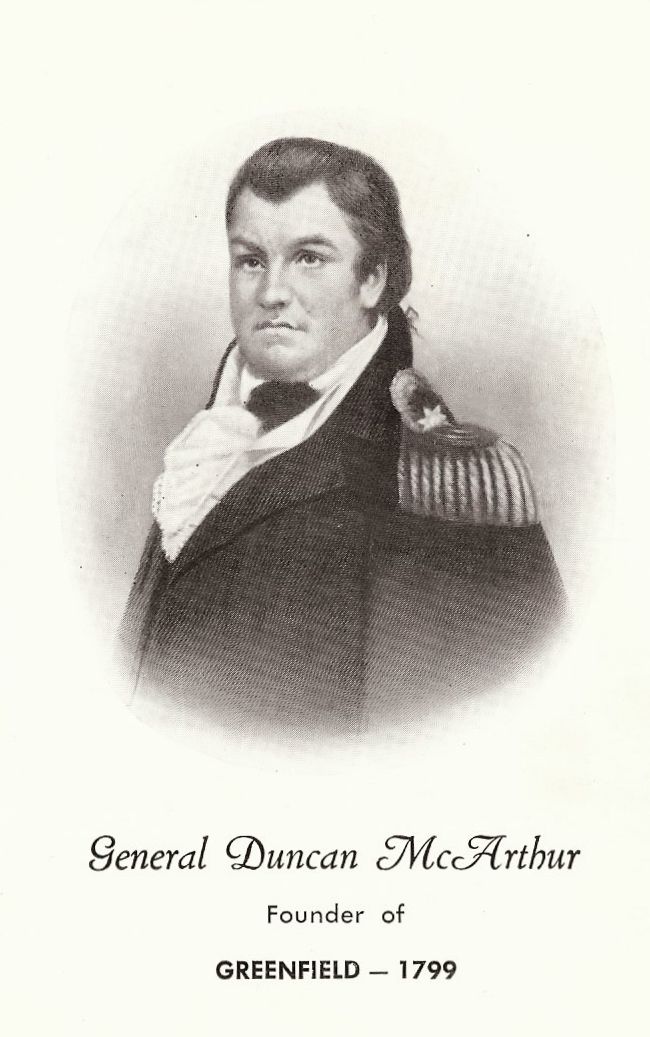 ---
Born in Greenfield, Donald Eugene Lytle (May 31, 1938 – February 19, 2003), better known by the stage name Johnny Paycheck, was a country music singer and Grand Ole Opry member most famous for recording the David Allan Coe song "Take This Job and Shove It". He was a major force in country music's "Outlaw Movement" popularized by artists such as David Allan Coe, Waylon Jennings, Willie Nelson, Billy Joe Shaver, and Merle Haggard. In the 1980s, his music career suffered from his problems with drugs, alcohol, and legal difficulties. He served a prison sentence in the early 1990s but his declining health effectively ended his career in early 2000. More information.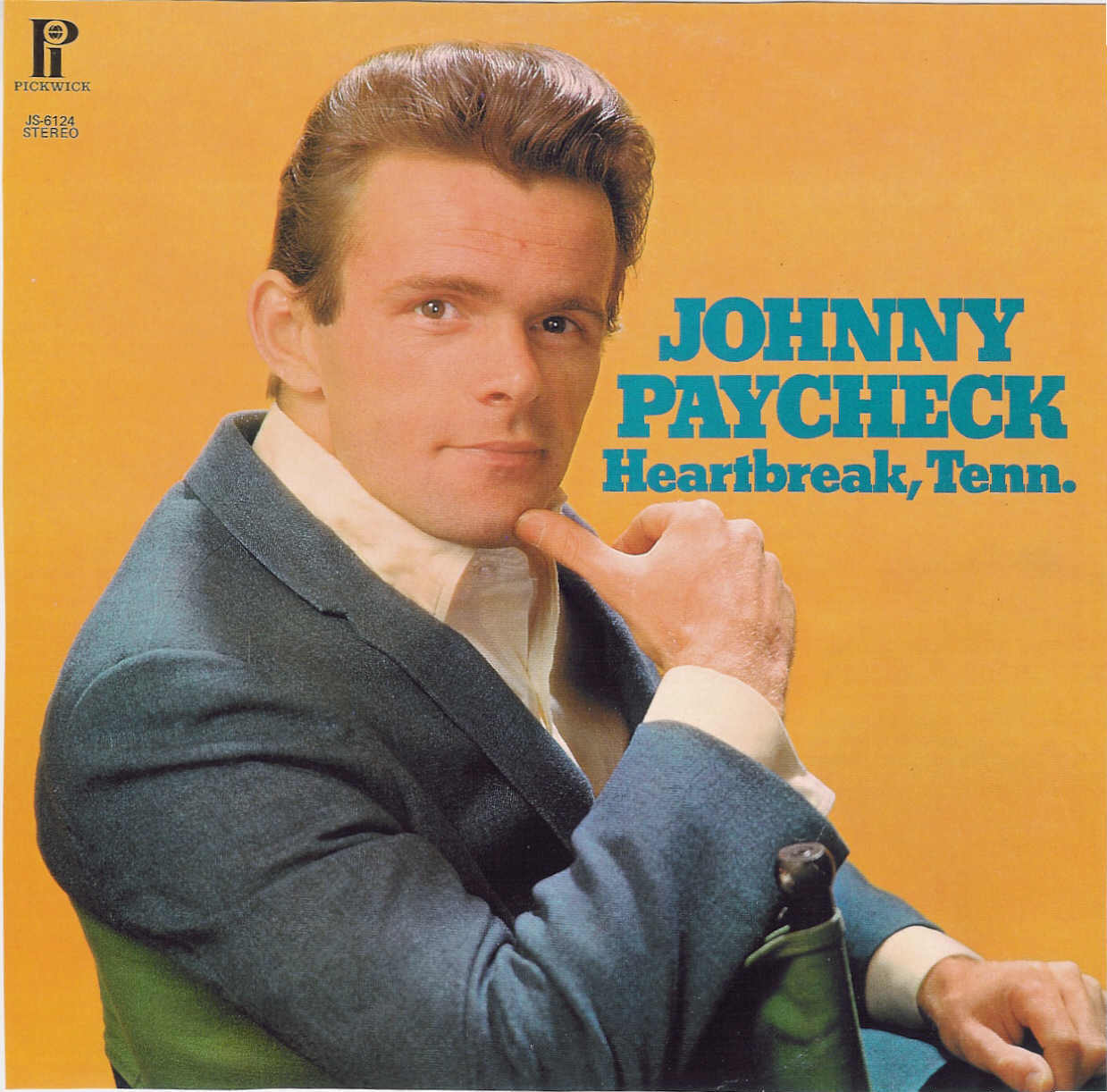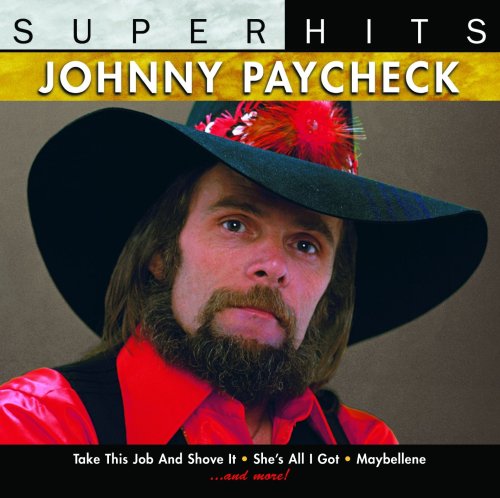 ---
George Braxton, born a slave on an Od Virginia plantation, was a familiar figure on the streets of Greenfield. He had the gracious and courtly manners of an old plantation slave, the innate courtesy of one who had been chastened by misfortune, sweetened by adversity and inspired by a great and abiding faith in God and his fellowmen. He was the pastor of the Shiloh Baptist Church for many years. In addition to his preaching, he had a great ability to install draining tiles for farmers.
When questioned by a census enumerator in Columbus in 1940, he could offer no certified proof that he was 113 years of age, but based his claim on memory of a notched stick. He recalled that from year to year his birthdays were carved on a "birthday stick" carried by his master. He remembered that when he came home from the Civil War, his master told him there were 42 notches on the stick. He said he was the first negro married in Ohio, and was the father of 17 children. He died in Columbus 6/22/1942.
It was said that he saved the Greenfield town hall from burning when the kerosene chandelier fell, scattering its oil over the floor and chairs. He beat out the spreading flames with his coat and for his heroism, the town took up a collection and bought him a new suit of clothes. The citizens of Greenfield erected the monument 1949.
---
Samuel Crothers was born in 1783, Chambersburgh, Pennsylvania and died in 1856, in Oswego, Illinois to Benjamin and Susannah Lockhart Crothers. At the age of five, his parents moved the family to Lexington, Kentucky. Samuel entered the Lexington Academy in 1798. He united with the Associate Reformed Presbyterian Church in 1803. He studied at the New York Theological Academy from 1805 – 1809 and was licensed to preach the Gospel on 9 November 1809. He then spent time as a missionary in Ohio, Indiana, Kentucky and Illinois.
In the fall of 1810 Samuel accepted a call to pastor the congregations of Chillicothe and Hop Run Associate and Reformed Presbyterian churches in Ross County, Ohio. March 1813 he settled in Greenfield to be near the Hop Run church. He resigned his position in Greenfield on 10 April 1818 because of differences over church doctrine. He removed to Winchester, Kentucky where he lived for two years preaching and teaching in an academy.
He united with the Presbyterian Church and was called to Greenfield where in 1820, the Presbyterian Church of Greenfield was organized with 60 members. Rev. Crothers is notable for having spent much of his lifetime writing and speaking against those who had made a biblical case for slavery, especially in his articles published in the Quarterly Anti-slavery Magazine. Crothers, a well-respected theologian and debater, debated the issue with theological giants of the era including Charles Hodge. Noteworthy among Crothers' work are fifteen letters published in the Cincinnati Journal, an "Appeal to Patriots and Christians, in Behalf of Enslaved Africans". In addition, Crothers published several books, including "The Gospel of the Jubilee" and "The Life of Abraham".
In 1833, Rev. Crothers and the Greenfield Presbyterian Church hosted the first meeting of the Paint Valley Abolitionist Society, which was later reorganized in 1836 as the Greenfield Anti-Slavery Society. In 1835 he was one of the founding members of the Ohio Anti-Slavery Society, serving as an officer of that organization for several years. Rev. Crothers and members of his congregation operated the Greenfield station of the Underground Railroad, helping thousands of runaway slaves, including, it is said, "Eliza Jane Harris of Uncle Tom's Cabin fame". He served as pastor of the Greenfield First Presbyterian Church for forty-six years until his death while visiting his son in in Oswego, Illinois. He is buried in the Old Burying Ground.
---
Frederick Douglass (born Frederick Augustus Washington Bailey, c. February 1818 – February 20, 1895) was an African-American social reformer, orator, writer and statesman. After escaping from slavery, he became a leader of the abolitionist movement, gaining note for his dazzling oratory and incisive antislavery writing. He had escaped slavery to the sanctuary of Massachusetts where he defeated all efforts to return him to his Maryland master.
Although not a resident of Greenfield, he visited Greenfield in 1844 at the beginning of his career and gave great impetus to the abolitionist movement. He visited and stayed a week with Dr. Milton Dunlap, one of the leading abolitionists. During his stay he delivered several impassioned addresses in local churches and made many converts to the cause of abolition. When he left, he was presented with a good riding horse and saddle.
---
Did You Know?
Ohio and Highland County were important in the Undergournd Railroad system. The area was geographically located between Ripley and the Ohio River and Sandusky, Ohio, to the north. It has been said that Harriet Beecher Stowe gathered information for her Uncle Tom's Cabin story while staing at the Rankin house in Ripley. The story is of Eliza and George Harris being helped by the UGRR through Ohio to Sandusky and eventually to Canada. Historians tell that is was Greenfield where Eliza stayed until George arrived to join her and continue their journey.
Also in the above book, it is said that the first Negro person to live in Greenfield was one named Rachel. This information was taken from F.R. Harris' A Greene Countrie Towne. Although information is scarce about Rachel, she was an emancipated slave, done so by court order per her "owner" Samuel Gibson. It is believed that she took the last name of Stafford while living with a William Stafford family in the Fall Creek area. She later became a housekeeper in the Dr. Samuel Crothers home and appears in the 1850 Census records as a member of the Crothers household. Our Old Burying Ground records lists a Rachel Stafford d. May21, 1858, a. about 80yrs. Her gravestone was found, repaired and cleaned.